---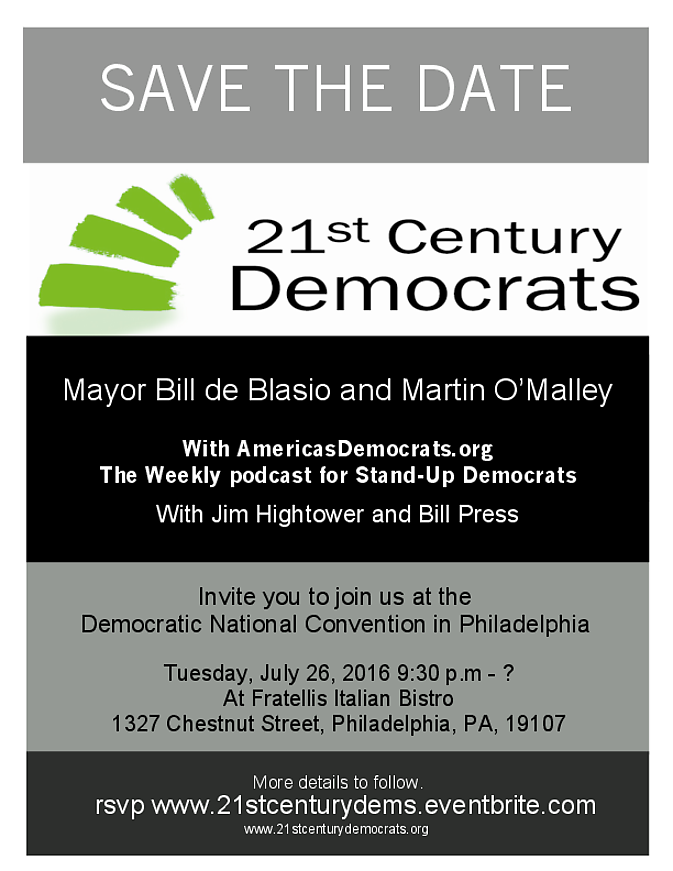 ---
No matter which Democratic candidate for president you are pulling for, we can all agree on the issues Bernie Sanders wants to address:
$15 per hour minimum wage
Repeal Glass-Steagall
Break up the big banks
Expand Social Security
Free college tuition
Ban fracking
We have the opportunity to petition the Democratic Party Platform Committee to adopt these pressing issues and make it a part of the Democratic Platform.
Bernie Sanders campaigned on these issues – issues that 21st Century Democrats looks for in the candidates we support.
No matter who you are for, please sign our petition today:
---
This is why we need a Democratic-led Senate.
Senate Majority Leader Mitch McConnell has declared that President Obama shouldn't bother nominating the next justice to the Supreme Court — and the Republicans running for president agree.
Republicans have already closed ranks and intend to ignore their constitutional duty by blocking a vote for President Obama's nominee — no matter who it is.
We have to stand with President Obama, who will do his job by fulfilling his constitutional obligation to nominate our next Supreme Court justice.
Sign on to tell Mitch McConnell and his fellow Republicans to uphold the Constitution and give President Obama's nominee to the Supreme Court a fair hearing and a timely vote in the U.S. Senate.
It is the right thing to do.
---
"Nothing helps families make ends meet like higher wages. … And to everyone in this Congress who still refuses to raise the minimum wage, I say this: If you truly believe you could work full-time and support a family on less than $15,000 a year, go try it. If not, vote to give millions of the hardest-working people in America a raise."
– President Obama, January 20, 2015 
No one should live in poverty when working full time. It's time to establish a living wage.
In President Obama's State of the Union address, he once again urged Congress to raise the minimum wage from $7.25 an hour to $10.10 an hour. He posed a challenge to Congress: try living on $15,000 or less a year. For most members, that would be more than a 90 percent pay cut.
Raising the minimum wage nationwide will increase earnings for millions of workers.  And it's the right thing to do.
Please sign on to encourage Congress to raise the minimum wage.